Learn More About Spinal Decompression In Meridian
What is Spinal Decompression Therapy and what are its advantages?
Spinal decompression therapy is a safe, non-surgical traction-based treatment for herniated or bulging discs in the neck and lower back. Anyone who has back, neck, arm or leg pain may be helped by spinal decompression therapy.
What type of decompression system is used, and are the doctors certified in spinal decompression?
After a significant amount of research, our office chose what we believe to be the most sophisticated, technologically advanced, state-of-the-art decompression system in the world, the Kennedy Decompression Table.
We also selected this decompression system due to its ability to treat discs in both the neck and the low back.
The doctors completed the Kennedy Decompression Technique course work and passed the qualifying examination to achieve the status of "Certified Practitioner" in spinal decompression therapy.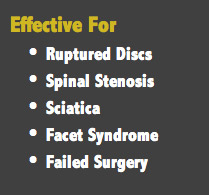 Who can benefit from Spinal Decompression Therapy?
Anyone who has back pain or neck pain caused in whole or in part by a damaged disc may be helped by spinal decompression therapy. These conditions include herniated, protruding or bulging discs, spinal stenosis, sciatica or even failed surgery.
When you come in we will take a history and do an exam to find out if you will respond well.
Are there medical studies that document the effectiveness of Spinal Decompression Therapy?
Yes!
One study documented by MRI up to 90% reduction of disc herniations in 10 of 14 cases and other studies reported that the majority of ruptured disc patients achieved "good" to "excellent" results after spinal decompression therapy.
Are there conditions where Spinal Decompression Therapy is not indicated?
Spinal surgery with instrumentation (screws, metal plates or "cages") is contraindicated. However, spinal decompression therapy after bone fusion or non-fusion surgery, can be performed.
Spinal decompression therapy also is not recommended for pregnant women, patients who have severe osteoporosis, severe obesity or severe nerve damage.
Are the sessions painful, how many will be needed and what is the cost? Can the costs be financed?
Most patients report no discomfort during the treatments. In almost all cases, the treatments are completely painless.
In fact, some patients fall asleep during the spinal decompression session.
The specific treatment plan will be determined by the doctor after your examination. Based on current research, the best results have been achieved utilizing 20 sessions ($75.00 each) over a 6 to 8 week period. Based on that most common protocol, the total cost of the spinal decompression sessions would only be $1,500.00…which is a small fraction of the $5,000+ amounts that some other doctors are charging.
We also offer CareCredit that will allow you to finance the entire cost and make 12 monthly payments with no interest.
Does my insurance cover Spinal Decompression?
In many cases insurance will cover spinal decompression when you come in we will do a courtesy benefits check to find out.
Get Started Today!
We want to make it easy for you to learn if you are a candidate for spinal decompression therapy. Just contact our office or call (208) 884-5000 to arrange a free consultation with one of the doctors.
Please remember to bring any MRI reports so the doctor can review them and best advise you about your treatment options.
---
Spinal Decompression Therapy | (208) 884-5000