About Better Life Chiropractic
What We're About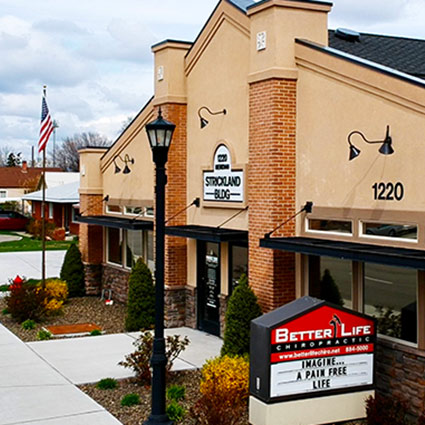 Better Life Chiropractic is a busy and energetic practice – rocking with lots of energy and movement. And because you are the most important component of the practice, we are committed to hiring upbeat and friendly staff members who make this a warm and inviting place for you to come, and to refer your friends and family.
We do a lot of training on how to best serve
our patients
. The goal is always to be learning more and more about how to create and grow loyalty between our patient-doctor relationships.
We hire doctors with great ethics. This is such a simple concept, but it makes a world of difference. And we believe in clinical excellence. We get together as a group twice weekly and do training because it's such a priority to us. We work hard to stay proficient in our techniques, and are constantly growing in our skills and education.
MEET OUR DOCTORS »

Bringing Relief & Supporting Wellness
We are a relief and wellness clinic, our main focus is on getting people well with natural, inside-out chiropractic care but we certainly love to give them pain relief as well! Dr. Strickland defines "wellness" as being proactive about your health and taking daily steps to optimize your internal health.
This includes:
Consciously eating right
Exercising
Staying well adjusted
Having positive mental-emotional-spiritual balance
Getting enough rest
Find Out Why We're Different
Better Life Chiropractic is unique in the way that we integrate chiropractic care with a suite of support therapies, including the Fascial Distortion Model, Massage, MLS Laser, and large Nutrition dispensary with an array of whole food supplements, Herbs, and Homeopathy.
Our goal is to help you heal completely. We're equipped with the tools and means to see your case through from initial analysis to your return to a healthy and active lifestyle.
Contact us today with any questions or to book an appointment.

About Better Life Chiropractic | (208) 884-5000